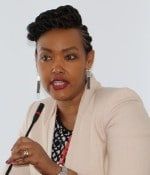 In this Alumna of the Month feature, we bring you Ms. Dinah Musindarwezo, an international consultant, a member of AWID and former Executive Director of The African Women's Development and Communication Network – FEMNET. Dinah tells of her feminist leadership journey, how the AWLI enhanced her knowledge  and how she has used this to challenge the status quo through policy influence, regionally and globally.
Tell us about yourself and your work
I am a Rwandan African feminist and a Gender and Development Expert determined to contribute towards transformation of structural power relations to achieve Gender Equality, Women and Girls' Human Rights and justice for all. My work has focused on advocacy and policy influencing to ensure that needs and interests of women and girls inform policy and legal frameworks nationally, regionally and globally.
Which animal character would you best relate yourself to and why?
I believe it is a Giraffe because of its gracefulness and confident appearance that seems to be projecting in the future. Its image reminds me not to sweat the small things and to focus on what is important. As a woman and an African black woman, I also feel the need to make my presence felt, to stand tall and focus on the big picture of achieving social justice and gender equality. This informs my analysis of the issues and where I choose to focus my energy. As feminists and Women and Girls' rights Activists we are often pooled down, challenged on our ideology, beliefs and analysis. Just like the Giraffe we need to remain calm and focused on our vision. We also need to choose our battles as a way of sustaining ourselves.
Why was the African Women Leadership Institute (AWLI) appealing for you to take part in as a leader?
I applied to participate in the African Leadership Institute at a time where I was already passionate about promoting gender equality and women's rights but I was not sure how feminism fitted into this picture. I had heard about feminism in a negative way especially from men and that pushed me to want to know more about feminism. I was also in my first leadership job and I thought AWLI was that place that would help me learn about feminism and at the same time improve my leadership skills.
What were your expectations before joining and did the Institute live up to these expectations?
The Institute went beyond my expectations. I did not only learn about feminism, I self-declared myself a feminist and that was such an empowering and liberating moment for me. At the end of the Institute I felt so powerful to take on the world and dismantle patriarchal structures. It was such a great feeling.
I remember feeling so inspired that I wanted to start a Women's Rights Organisation in my country to allow me put my ideas into practice where I would train women and girls about feminism and everything I had learnt at the Institute. I shared my idea with my new and well experienced sisters in the movement that I had met at AWLI who advised to instead think of ways to work with existing Women's Rights Organisations. And I listened.
I wanted to be excellent in my work so I decided that I was going to study my Master's Degree in Gender and Development and after that I would join a Women's Rights Organisation. The Organisation that inspired me most at the time was AWID, and I joined as member.
Other major learnings I got at AWLI included resource mobilization, planning and developing own plans. So I developed a personal development plan that would lead me to my goals.
What exactly about the experience at the institute is transcendent to your work today?
My feminism started at AWLI and somehow that defined my future. AWLI had such a profound impact on the kind of a leader I am today and formed the basis of how I view the world. It is because of AWLI that I studied Gender and Development and got interest to work with Women's Rights Organisations as a platform that would enable me to contribute towards a vision I am so passionate about. As a result, I had the honor of leading one of the biggest and oldest Pan- African feminist Network- FEMNET- African Women's Development and Communication Network for more than six years. Feminist analysis and leadership, I learnt at AWLI was instrumental through out my leadership at FEMNET and beyond. In my current work I offer consultancy and voluntary services to Women's Rights Organizations, INGOs and UN Agencies where my feminist analysis to a variety of issues affecting all women and girls continue to be the top value addition.
What has been your biggest achievement following the AWLI training you attended?
The biggest achievement was first to gain clarity of what I wanted to achieve in life. Following this I have led successful advocacy and policy influencing at various levels starting with my own country Rwanda where I have been part of advocacy that increased the number of women in political leadership, putting in place gender responsive budgeting in government ministries, supporting victims and survivors sexual abuse and harassment. I have been apart of advocacy that led to progressive laws and policies in Rwanda that promote gender equality including laws of ending Gender Based Violence, land and property ownership laws and policies among others.
Regionally and globally, I have contributed to the advocacy that saw the adoption of the 2030 Agenda for Sustainable Development with a stand-alone goal on Gender Equality, ratifications of the Protocol to the African Charter on Human and Peoples' Rights on the Rights of Women in Africa. I have advocated for various issues affecting women and girls including Financing for development, and specifically financing for gender equality, women's economic rights, women' sexual and reproductive health and rights, ending violence against women and girls as well transformation of global structures that perpetuate inequalities through international finance, tax and trade policies. My work at FEMNET gave me opportunity to mobilize and collaborate with Women's Rights Organizations and Individual women and girls Activists from across Africa and beyond to carry out ground breaking advocacy and policy influencing work that has impacted change at all levels.
How was your interaction with faculty, who were they and how exactly did they impact your journey during AWLI and beyond?
The faculty had amazing women that I continue to admire and who inspire me. Bisi Adeleye-Fayemi was one of the Facilitators who inspired me a lot. I had never met a woman with so much energy, fire and so brilliant like Bisi. I was wide awake in all the sessions she led and ever since then she became my role model. I started reading most of her work. Her writing on feminism and leadership has influenced and informed my leadership Other faculty facilitators included Muthoni Wanyeki and Sarah Mukasa who also continue to inspire me to date.
How important is sisterhood and networking in your line of work, and did the institute support you in this regard?
Sisterhood and networking is the bedrock of my work. I believe that for everything I have achieved or contributed has been because of support and inspiration I get from feminist sisters across the continent and the globe. We would not celebrate half of what we have today if women had not collaborated, supported and inspired each other. The Institute provided a platform for me to get to know amazing women that I did not know before. As a result, I learnt from what others were doing and I was truly inspired. I have kept contacts with some of them to date. I think the Institute would have done a better job in keeping us connected and supporting us at different stages of our leadership journeys.
Where did your passion for feminist leadership stem from?
Through personal experience I knew from childhood that women and girls were marginalized and discriminated against. Even without any awareness of feminism or gender equality I felt that it was not fair how women and girls were treated, and something needed to be done to change that. A class I took in my undergraduate studies that focused on gender equality affirmed what I had experienced growing up but it still didn't explain why the status quo was the way it was and neither did it talk about feminism. Therefore, my passion for feminist leadership and feminism ideology stem from my personal experience but was awakened by AWLI.
What adversities have you faced during your journey, how have you conquered them?
The work I am doing involves challenging the status quo, demanding structural and systematic change. The change we demand as feminists is often on issues considered natural, African, and religious and therefore should not be questioned. Challenging and questioning these kinds of issues is hard work and extremely challenging. It is only those with a feminism vision that put themselves through this. So my biggest challenge has been to remain true to this vision and not allow this vision to watered down.
Being a professional woman occupying spaces dominated by men who up to today believe that the women's place is in the kitchen (without saying it out loud) is draining. This has also included facing issues of sexual harassment and simply being undermined as someone who doesn't deserve to be in the space and have a say on the issues being discussed even when there is consensus that these issues disproportionately affect me as a woman and the constitution I work with. Sexual harassment in the public and private sphere is a tool that men are continuing to use to control and exercise power over women. I am sure many other women have experienced this form of control.
In addition, taking up leadership positions as a young woman has not been easy. Women leaders are generally marginalized and undermined and young women leaders face double marginalization.
I have overcome these challenges by surrounding myself with feminist friends who have supported and held me up at every time of the need. My partner has also been supportive throughout my leadership journey.
Many would regard you as a resilient African feminist who has immensely contributed to the advancement of young women's rights. How have you managed to maintain this brand and what is your advice to young women aspiring to lead?
First, let us remember that young women are already leading and are doing amazing transformative work across the continent and the globe.
I remain committed to advancing young women's rights by putting myself in their shoes and remembering what it was like when I was their age. Although the needs and interests of young women change, there are issues that have remained constant for example the issues of voice and representation on matters concerning them, and getting marginalized even in the spaces where it is least expected such as in the women's movements as well as in youth movements. So this reminds me to constantly ask myself whether young women are on the table, whether they are meaningfully participating and whether they are being listened to.
I ask myself what I have in power, influence and network to support and facilitate the work young women leaders are doing and how I can be in solidarity with them. I work with young women as Actors with solutions to issues affecting them and not as 'beneficiaries' and this approach has always left in owe of the kind of commitment, passion, innovation and creativity young women bring to the struggle for gender equality and women's rights.
My advise to young women aspiring to lead is first of all to remember that leadership is not just positional kind of leadership of for example being Executive Director, CEO, President, Ministers etc, leadership can be practiced from any position they are at. Having said that I encourage young women to go for positional leadership and take with them transformational leadership that centers human rights and women and girls rights. They must surround themselves with people who will always support them in their leadership journeys. If they have not yet done so, I encourage them to identify what their vision is. Their vision must be aligned to something they are extremely passionate about, something that makes them feel fired up. This passion will sustain their energy even in the times of difficult.
Sometimes the work we do can be challenging and draining at the same time; what do you do to renew your energies?
Yes it is important to look after ourselves while we smash patriarchy. A few things I do to re-energize include; A good conversation with my girlfriends over a drink, Walking alone, Massage, spending quality time with my partner and playing hide and seek (and other games determined by him) with my 4 year old child.
Who is your favorite African Female author?
That will be Chimamanda Adichie and Bisi Adeleye-Fayemi.
Why would you encourage young women out there to pursue the AWLI?
I would encourage young women out there to pursue the AWLI because it provides clarity of what our ideology is, and it empowers young women to believe in themselves and their potential to lead and transform systems of oppression and gives them tools to do this.
Are you an alumna of the African Women's Leadership Institute (AWLI)? Are you interested in sharing your leadership journey? Please get in touch with us at amwa@akinamamawaafrika.org. We would love to hear from you!
Was this post helpful?
Let us know if you liked the post. That's the only way we can improve.