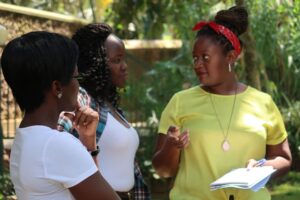 The African Women's Leadership Institute (AWLI) has been strengthening young African women's leadership capacities since 1997. Through her unique POT model, the AWLI has equipped feminist leaders to tackle patriarchy and attain justice for women and girls in Africa. Our network includes thousands of alumnae and partners spread across Africa and the diaspora. As a young leader, the AWLI is the perfect space for firing up your feminism while enhancing your leadership capacities to be able to challenge societal norms.
What Drives Us
Despite being the most active economic female agent world over, the African Woman is limited in achieving her full potential largely due to oppressive cultural practices, discriminatory legislation and segregated job sectors. It is no surprise therefore that only 5% of African Women make it to the very top and remain under represented at every level of the corporate ladder, non-management and senior management according to a study conducted by McKinsey and Company in 2016 – we are changing that. In response to this dearth of women's leadership in Africa, Akina Mama wa Afrika (AMwA), a Pan-African, Non-Governmental Organization rose and took on the challenge of strengthening African women's individual and collective leadership and forming strategic partnerships to tackle patriarchy.
33 years and counting, AMwA together with partners strives to contribute to the full equality of all African women fulfilling the vision of her founders. We are committed to enhancing capacities of young women and key constituencies to effect change in their own lives, communities and effectively participate in leadership and decision-making.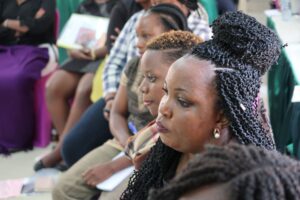 Transforming Women's Leadership in Africa
The African Women's Leadership Institute is dedicated to moulding young women into feminist and transformative leaders, thus inspiring feminist and confident leaders to individually and collaboratively discover opportunities, address challenges and effectively advocate for women's rights. Birthed in 1997, the AWLI is based on a long standing model of POT (Personal Mastery, Organising Skills and Taking Action) Framework that provides a powerful and holistic feminist grounding for African women to define, analyse and articulate their experiences of inequalities and devise solutions for sustained change. The Institute modelled on the POT Framework, seeks to offer short courses on feminist leadership to African women from various sectors of economy so that we can build wider constituency of feminist leaders who able to articulate issues of women's concerns with greater need and passion for overhauling the structures and systems that have for long hindered women's advancement. Beyond the courses, AMwA walks with the young women leaders through her robust mentorship program for a period of one year after the training to ground them deeper in feminist principles for both their personal and career lives.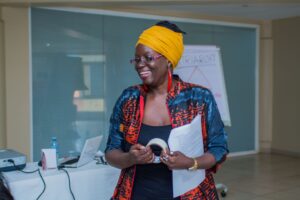 With a faculty of invincible feminists from all over Africa including Bisi Fayemi, Sarah Mukasa, Prof. Sylvia Tamale, Hope Chigudu, to mention but a few, the AWLI is a networking; information and training forum established for sustained leadership development for African women to develop a strong cadre of women leaders at personal and collective levels, to influence policy and decision-making. Through the application of feminist principles, the result is to achieve lasting qualitative difference in the lives of women in Africa.
The AWLI experience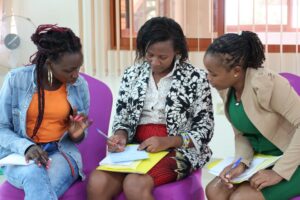 Developing the leadership potential of young African women who would like to commit themselves to a progressive women's movement in Africa.
Providing leadership training for young African women who are in leadership positions in women's NGOs, mixed NGOs, government institutions or corporate bodies and other related sectors that promote women's economic empowerment
Empowering African women living in fundamentally patriarchal communities with self-development and life skills training.
Initiating fora for young women to meet and build alliances for individual and professional support.
Develop a mentoring and role modelling system in order to benefit from the knowledge, skills and expertise of older women.
Strengthen existing national and regional networks through networking and solidarity and to build and sustain links with the international women's movement.
An Army of AMwAzons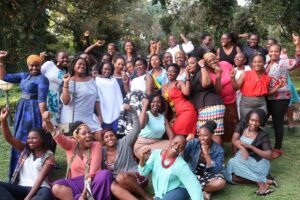 Today, over 6,000 African women have attended various one week to three week institutes and have attested to a deepened grounding in gender concepts, feminist theory as well as well as been conscientized to challenge patriarchy and other forms of oppression and exclusion. AMwA alumnae are working as activists on the continent by demanding and securing increased recognition and access to resources, from basic needs to fundamental human rights. Our alumnae are at the forefront of mobilizing the citizen demand for greater transparency and accountability from their states, securing political victories, shifting mind-sets, unravelling the very norms and institutions at the core of women's inequality and social exclusion. In short, they embody the active citizenry of deep democracy crucial to a more just and sustainable world. Many have created women leadership institutions e.g. In Uganda, Zimbabwe, Malawi, Botswana and Kenya.
The ultimate aim of this programme is to encourage and train significant numbers of women for informed leadership positions that will ultimately promote a progressive African women's development agenda. The development of a feminist constituency among the next generation of African women leaders is essential to the future of the African women's movement.