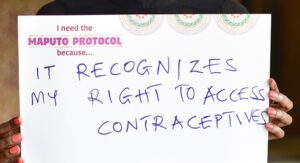 Empowering Women to Reclaim Their Bodies
Across Africa, misconceptions about family planning abound due to lack of information, limited access to and high costs of the services. This coupled with limited decision making power by women on reproductive choices and opposition from male partners has led to a high number of unplanned pregnancies and induced abortions. To make matters worse, abortion is criminalized in most African countries. Women continue to die due to maternal related complications and service delivery constraints while religion and culture continually influence society's perception of women's reproductive health rights where preferences for male children have led some women to try for another baby even at the cost of their own health. Women are also at a high risk of contracting HIV/AIDS as a result of several factors such as lack of control over sexuality and increasing domestic violence and are therefore unable to negotiate for safer sex and full sexual rights.
Taking an example of Uganda, most of the legal framework supporting women's rights to their bodily autonomy are still bills on the floor of Parliament; these are the Marriage and Divorce Bill and the Sexual Offences Bill. This calls for greater advocacy efforts on law reform to enable women exercise their right to choice and control of their fertility. AMwA is part of and provides direction for coalitions such as the Coalition to Stop Maternal Mortality due to Unsafe Abortion in Uganda (CSMMUA) and the Solidarity for African Women's Rights (SOAWR) which advocate for the Sexual and Reproductive Health Rights of African Women.