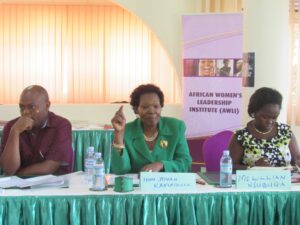 Uplifting Young Women to Build Feminist Leaders for Political Justice in Africa
Even though Africa has had only three women Heads of State so far, their attainment of these positions has raised much awareness among young women who see themselves as possible leaders in the future. An examination of women's representation in parliaments and cabinets revealed that Africa has more women in parliament and cabinet than the global average, although there is still room for improvement. Rwanda is by far the best performer with 64 women (to 36 men) in parliament, helped by a law stipulating that 30% of all parliamentary seats be held by women. The other African state is South Africa, where the African National Congress upped its quota of women from 30% to 50% in 2009. However, numbers do not equal influence, as women do not necessarily have greater power. There is therefore a critical need for women's representation in power and decision-making to double.
A recent study by McKinsey on Women Leadership in Africa revealed that women are still under-represented at every level of the corporate ladder; non-management and senior management fall in number as they rise higher. Only 5% manage to make it to the very top. The same study shows that companies with a greater share of women on their boards of directors and executive committees tend to perform better financially. Earnings before interest and taxes margin of those with at least quarter share of women on their boards was on average 20 percent higher than the industry average.
The empowerment of women and girls is a crucial element in Africa's quest for inclusive, sustainable growth and development. In 1997, AMwA launched her flagship program, the African Women's Leadership Institute (AWLI) to spearhead training on feminist and transformational leadership across the continent. The AWLI seeks to create safe spaces to introduce feminism to women leaders; to openly question their understanding of notions of women's rights; to build the decision making capacities of women and to increase the number of women taking up leadership positions within critical spaces. The absence of women at the top of leadership structures lends this exercise great urgency. To this end, we enhance the decision making skills of women both at the personal and institutional level to create a new generation of African women leaders.